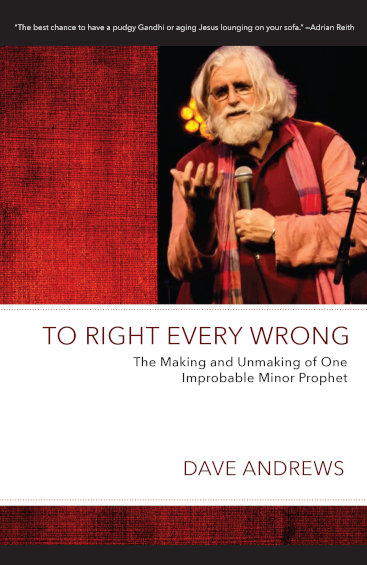 Martin Wroe - Greenbelt
More Information:

·
wecan.be
·
Waiters Union
"I cannot speak too highly of Dave. He is an extraordinary individual; He is arguably the most outstanding community development worker both theoretically and technically to have graduated from this department (The Department of Social Work of the University of Queensland) in the last decade."
Tony Kelly - Senior Lecturer in Community Work University of Queensland
Dave is 'one of the most inspiring people I have ever had the privilege to meet.'
Rabbi Zalman Kastel - Together for Humanity Foundation.
'My good friend, Dave Andrews, (embodies) that "Australian soul" (that) will better facilitate harmonious coexistence and understanding in our multi-religious, multi-cultural society.'
Dr. Nora Amath - Australian Muslim Advocates for the Rights of All Humanity
'Dave Andrews is a man whose life reflects consciousness of God. His personal piety, kindnesses to others and service to the needy are manifestations of Dave's God-consciousness. Dave's reflections on the Bismillah demonstrate that Muslims and Christians have much to teach to and learn from each other in respect to navigating a path towards God and living according to God's will.'
Dr. Halim Rane - Griffith University Islamic Studies Unit
'Dave has encapsulated the very essence of tawheed so well, he brought me to tears. I honestly believe he has the character that we should be embodying - better than a majority of Muslims - and I think that's why he has this affect on us (not being Christian). Surely refinement of character only comes with purifying one's understanding of religion. I've always been perceived by some as 'conservative', but throughout his reflections I was in awe, because it was as if he was either reading my mind or taking the words off my tongue. May Allah grant him eternal happiness. Ameen.'
Riffat Gurdezi - Northside Da'wah Revival 
'Simple acts of care and compassion, finding common ground and genuine dialogue are embodied in the life and work of Dave Andrews. Thank you Dave for modelling another way - you inspire and encourage us to be more.'
Ann Morgan - Edmund Rice Education Association
'Dave Andrews (is) enigmatic, paradoxical, yet disarmingly honest, an authentic, radical Christian, whose integrity and lived, costly commitment to the God of transforming love, both inspires and disturbs someone like me, who comes across him from time to time and regards him with deep respect. (Dave) takes seriously what it is to be truly human - and tries harder than most to live it.'
David Busch - Broadcaster
"Dave and his wife Ange both live life on the edge. The dreams they dream together are translated into reality ... through their lives. Their lives are a statement about advocacy and long term involvement ... and the cost and risk and commitment that is required."
John Uren - Whitley College
"Dave (has) a calmness that radiates serenity ... The Andrews use the human method of warmth and understanding often with excellent results ... To some the prospect of working among the poor would be a frightening prospect. But the Andrews face it with good cheer." /p>
Ranjan Gupta - Sydney Morning Herald
'Everybody loves good neighbours. Dave and Ange are an example of what true neighbourliness can achieve..."
Clive Price - Christian Family
"Dave is a deep thinker who has a rare gift of interpreting the activities and motivations of any society in which he finds himself..."
Mike Feeron - Christian Week
'Dave writes with a wealth of experience on issues that are dear to my heart.'
Jim Wallis - Sojourners
"He is offering more than a political soundbite. With Dave Andrews theory has become practice, and truths take on a life of their own.'
Simon Mayo - BBC Radio.
"There is one thing you need to know about Dave Andrews. He is dangerous. For example, after Indira Gandhi was shot, two or three thousand people were killed in twenty-four hours in the riots that followed. Mobs rampaged through streets looking for Sikhs to murder. Dave convinced Tony, a friend , that it was their job to go out and save these Sikhs. Finding a besieged house, they put themselves between an armed mob and a Sikh family and saved them from certain death. That's why Dave Andrews is dangerous. He is ordinary, yet believes ordinary people should take extraordinary risks to confront the cruelty in our world."
Dave Engwicht - Eco-City
"This English-born Australian-sounding father of two is really a kind of urban peace guerilla."
Clive Price - Christian Family
"People like Mr Andrews could be branded 'radical' and be shunned ... However (Dave) does not harangue people for our feelings. (He) provides practical suggestions ... to help us look at our communities ... and love our neighbours.
Irene Oliver - Queensland Baptist
It's natural to think of Dave Andrews as a prophet: (with) his fiery passion, his concern for justice, (and) the way his life speaks even more eloquently than his words'
Brian McLaren www.anewkindofchristian.com
'Dave Andrews (is) one of the leading prophetic voices of our time.'
Mike Riddell - Third Way
'Dave Andrews is a prophet who practices what (he) preaches.'
Rowland Croucher - Pastornet
'Dave Andrews illustrates how we can live our lives prophetically in our times.'
Jim Wallis - Editor Sojourners
'Dave Andrews is someone who has been captivated by the radical and compassion-ate Christ (and) has chosen to live out his calling in a very different way. Unlike most Christian leaders, Dave is not a cleric. He is not a leader at the centre of the church's life. He is a man at the margins. Dave will always carry a certain mystique. He is a charismatic person both at the speaker's rostrum and face to face. There is an energy that oozes out of him even when he is overworked. My long association with him has convinced me that he is a natural leader with sharp mind as well as a very good community worker who has committed himself to empowering the poor. The fruit of Dave's life is evident – ministries established, friendships forged, people helped, communities transformed, and workers trained to do likewise.
Dr.Charles Ringma - Regent College
"I like to think of Dave as a beardy, weirdy, proverbially wise old, kind old, tribal-leader, patriarchal, rugged, fearless, storytelling, be-slippered, firesided, snoozy, grandfatherly type."
Martin Wroe - Greenbelt.